Soma Kuna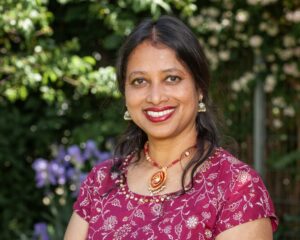 Education:
Bachelor degree with honours in Zoology (BSc)
Bachelor of Education (BEd)
Certificate for Kindergartenteaching (Kindergruppenbetreuerin)
Soma is the mother of three children and grew up in India near the Ganges. After working for three years in government schools, Soma married and moved to Austria, where she has been working for Joy for Children since 2007.
Soma teaches in English and loves to guide children in the loving, harmonious and balanced environment that Joy for Children offers. Teaching maths and natural science in a playful way is her passion. She creates her lessons with lots of music and arts as she believes that music and art touch our emotions while words alone cannot. She believes in the integration of heart and brain.
Her motto is "Play, learn, meditate and grow together".
Andrea Grebner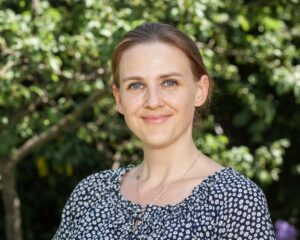 Education:
Master's degree in Education and special needs Education
Training course for kindergarten teacher
Sensory trainer
Andrea is married and a mother of 2 children. She has been part of the Joy for Children team since 2005, from 2011 to 2022 as chairwoman.
It is important to Andrea that the kindergarten is not only a place of education, but also a place of encounter. Education (especially in early childhood) takes place through and in relationships: In collective interaction, in the exchange with different materials, in projects during the kindergarten year but also in the organisation of the everyday routine and recurring rituals. Above all, children's play and a holistic way of learning with all senses are of great importance.
Andrea wants to create possibilities where children can explore new things with enthusiasm and have the courage and joy to discover the world. A loving and open heart as well as trust in oneself and the world are particularly important to her.
Jana Dallosová
Education:
Course for teachers in kinder-groups and daily mothers and fathers In Vienna (2017)
PHD-Study Physical Chemistry
Physical Chemistry, Komensky University
Since 2020, she has been working with younger children in Joy for Children, from 2023 as a chairwoman.
As a natural scientist, she would like to show the children the wonders of nature and to inspire them to understand it. She also shares with them her love of literature. As an illustrator and an artist, she tries to enthral the children with art and creative work.
An important issue for her is to help the children to find a balanced way of life, to discover, how to find friends and how to share with them, and to see themselves as a part of the environment. Our pedagogical work as well as meditating help to achieve it.
Daniela Horvath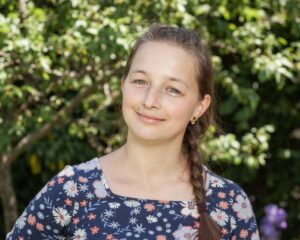 Training:
Training as a retail saleswoman
Training course for childminder, child group supervisor and kindergarten assistant WTBVO 2016.
Daniela is married and the mother of 4 children. Since 2022 in the Joy for Children team, child protection officer and responsible for the care of the children in the Mouse group.
It is important to Daniela to give the children a gentle start in the Mouse group. With lots of love and security as the basis for every good development. Giving the children space to balance themselves out, to enable learning processes. Setting an example of values and making the children aware of the wonders of nature is of great importance.
Children are the source of joy that we are allowed to accompany part of the way.
Faeze Aran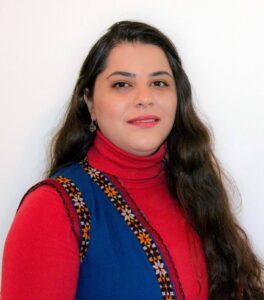 Education:
Bachelor's degree in graphic design (BA)
Photography and video editing training
Web Design training
Faeze is married and is working as a cook in the Joy for Children group since 2022. She has been working as a graphic designer in Iran for five years and has moved to Austria after she married.
Faeze is passionate about cooking, because for her it is a form of art. She enjoys expressing her love for children trough her food and seeing the joy and love she gets from the children in return.